Chisapani Namobuddha Trek
Chisapani - Namobuddha Hiking trail in Nepal offers travelers many water fountains and waterfalls which is the best experience on hot summer days.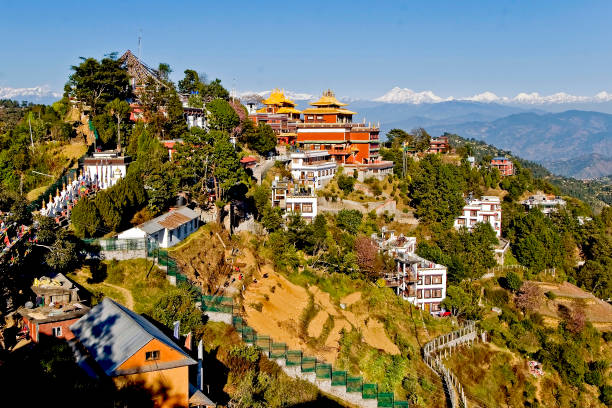 Chisapani Namobuddha trek is a year-round trek. The trail is busy from the beginning of March till early April and from September till December. Travelers often avoid trekking in Summer since it is difficult to trek in this season due to heat. However, Summer can suddenly change into a chilling water fun if you plan to walk in this trail.
The name Chisapani itself refers to cold water fountains and natural reservoirs. So, the location is famous for its natural water catchment area. The villages and hotels along the way make your travel easy. As locals walk regularly on these trails, you will have no difficulty walking in these hills. Many colorful flowers, chipping birds and mushrooms fill up your trail in the summer. Further, frequent summer showers give birth to various vegetation. With the shifting clouds you will often see Mahalangur range and mountains such as Ganesh, Gaurisankar and even the mighty Mt. Everest.
Chisapani - Namobuddha is an eight days trek that starts from Chisapani at Sundarijal. And it ends at the beautiful monastery Of Namobuddha in Dhulikhel through Nagarkot. This is one of the most famous trails which was used by trekkers to reach Everest region in the past. It encompases beautiful Sundarijal at Shivapiuri Nagarjuna National Park Area, Nagarkot, Chisapani, and Dhilikhel's historic monastery; 'Namobuddha' at 1750 meters elevation.
Highlights of Chisapani - Namobuddha Trek
Panauti

Indra Sarovar Lake and Temple

Panauti Durbar

Roshi River

Namobuddha Monastery

View of Everest, Langtang and Rolwaling Himalayan range

Rare birds and WildFlowers

Sunrise from Nagarkot
It's a moderately difficult trek with three distinct attractive locations including Chisapani, Nagarkot, and Namobuddha. Since there are several hotels along the way, you will always have a good cozy bed at the end of every day. Usually a sunscreen, a rain jacket and a good hiking boot can get you through the trail. In summer, some trails get a little muddy but numerous attractions along the way make getting muddy worth it.
What's Your Reaction?